About Me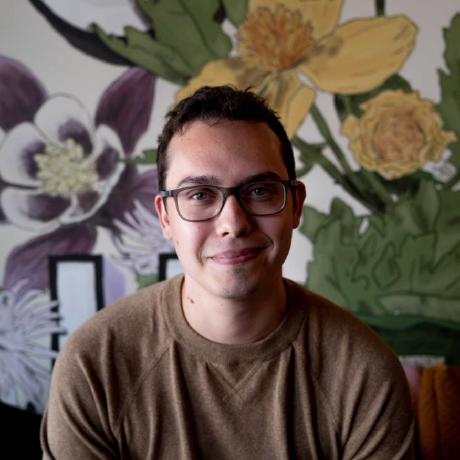 Hi, I'm Blake 👋

I'm a TypeScript developer with over nine years of experience planning, creating, and maintaining various types of apps and websites. My current weapons of choice include React, Next, TypeScript, and Node. I spend my days building enterprise-grade web apps, consumer facing websites, and mobile apps. I kick back on my nights and weekends by honing my skills and working on passion projects.

Currently I'm open to new opportunities in web and application development. Feel free to reach out to me if you have any need for a TypeScript developer who loves to learn and stay on the cutting-edge of the industry.
I don't want to toot my own horn, but I do know a little something about these:
TypeScript is a statically-typed superset of JavaScript that enables developers to focus more on building sound systems with fewer runtime errors. This upfront investment in the development process is a tradeoff that has a net benefit to the quality of any product. It allows the compiler to catch syntax errors and other common issues allowing the developer to focus on the bespoke problem they are solving.
React is one of the myriad front-end JavaScript frameworks, and to be honest they each achieve roughly the same goal. However, the difference in each is how familiar you are with them and the way they allow you to build the UI. In this regard I think React allows you to build interfaces in a way that equates with how they are designed and how we think about them intuitively. The way data flows is predictable and flexible. I love that React uses existing language features instead of inventing magic syntax.
Just because I didn't write a little blurb doesn't mean I don't have experience in something, here are some things I've used in production:
My History
I've had an interesting journey to get me to where I am now. Originally I set out to be a graphic designer, then switched to web design in college, and then eventually realized web development was my true passion. While growing up, I was always interested in computers and took as much time as I could to teach myself programming and design. I've learned I have a passion to create and problem solve; web development is a perfect culmination of these two things.

My career so far has taken me from startup to agency. Using a myriad of different technologies, frameworks, and methodologies I've built everything from web applications to marketing websites, hybrid and native applications, and then back again. Currently I find myself working on web and native applications using React and TypeScript as well as the occasional freelance website.
Crema

Application Developer III
As an Application Developer III I am expected to lead both the technical planning and development phases of the project. I help make decisions on the tech stack used for the project as well as function as part of the larger development team. As a senior member of the team I assist the team in working through issues and ensure the highest quality and correctness.
Crema

Senior Application Developer
In this role I helped build web and mobile applications as a member of the production team while also helping mentor and give direction to the development team as a whole. As a Senior developer I'm expected to have wide areas of expertise and be able to advise the development direction of projects.
Crema

Application Developer
While in this role I developed, implemented, and updated software solutions for web and mobile applications. I gained a lot of experience working in a cross-functional team and grew as a developer while working with other talented devs.
I lead the team that is the Web/Hybrid Application team at CodeKoalas, we used web technologies such as Javascript, Angular, Ionic, Cordova, React, and React Native to build and launch experiences for clients and consumers on multiple platforms.
Code Koalas

Web Developer
I was on the team that developed web sites using HTML, CSS, Javascript, PHP, and Drupal.
The Briefcase

UX Engineer
I developed and integrated the front-end of Briefcase with the back-end and also made design/usability decisions. I focused on HTML/CSS/JS but occasionally used PHP.
I was a front-end user-experience intern that helped implement the web-app and advised on usability decisions.
Work Examples
Due to the nature of most of my client work I can't show it off here. I'm either under NDA and can only speak in general terms about the non-proprietary aspects of the work or the apps are internal enterprise level apps that companies use as their competitive advantage over other businesses.

Feel free to reach out and start a conversation where I'll chat with you about the kind of work I've done, the technical decisions that were made, as well as learnings and outcomes from those projects.

However I do have some side projects you should check out, the code for these is all publicly available on my GitHub.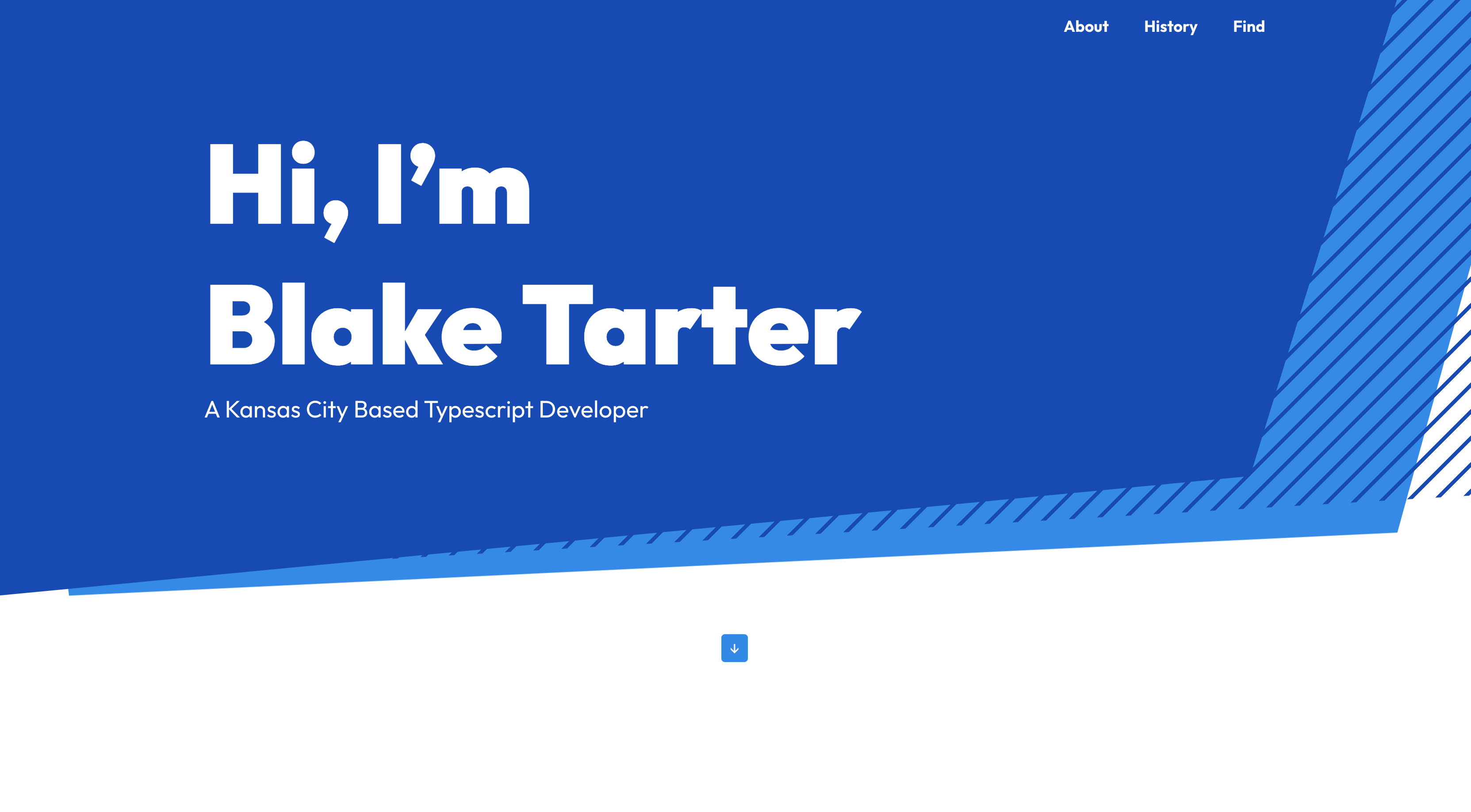 It's intentionally over-engineered for a simple one-page website. I like to use my personal website as a playground for new technologies or new ideas. Sometimes simply to show off stuff that I know how to do.
Check it out
Look at the source code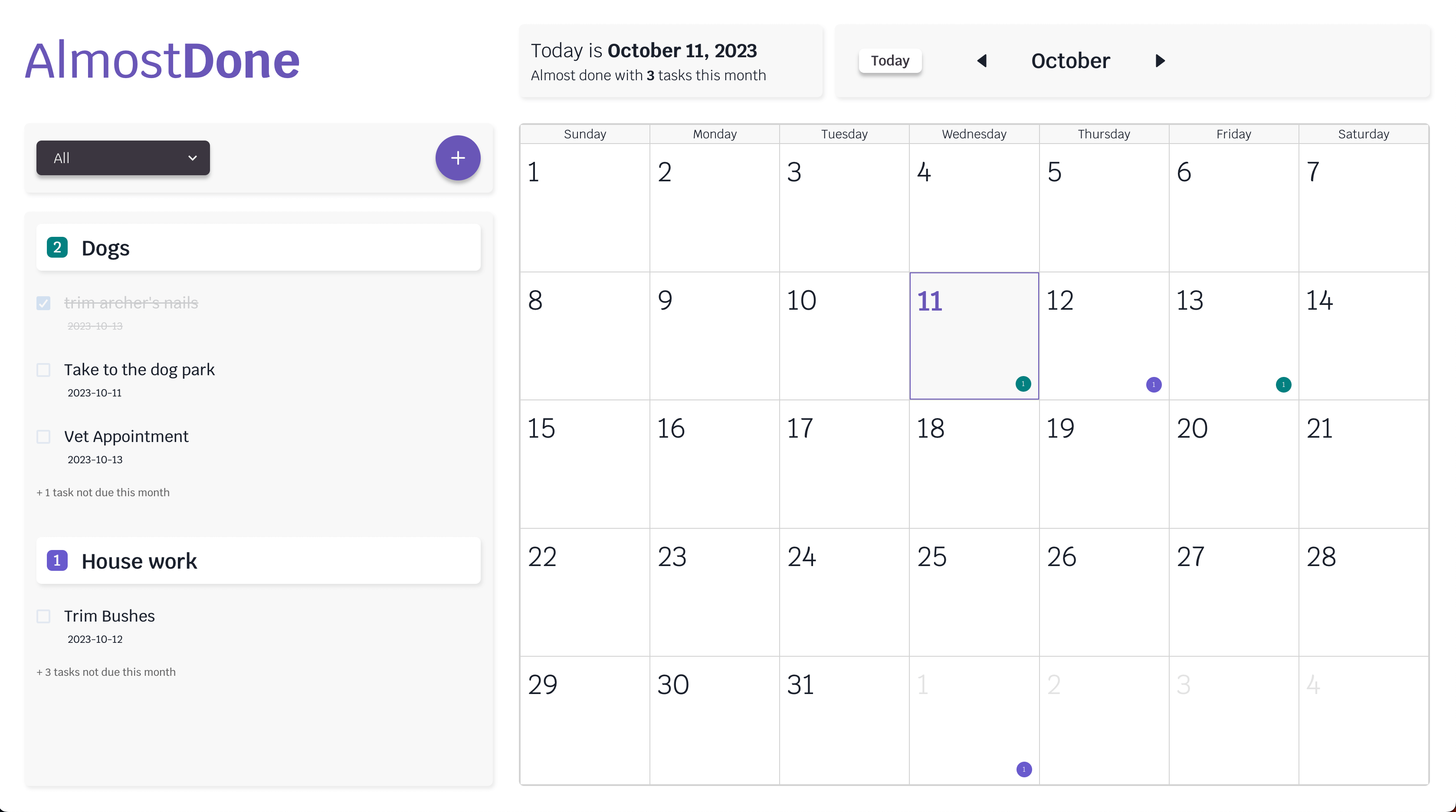 This is mainly a project to play around with some new libraries and some new UI Concepts. Almost Done is a simple Todo style app with the added functionality of assigning due dates and seeing the calendar with upcoming items that are due all in one view.
Check it out
Look at the source code